Apple Bushel


Kind
Earth Pony
Sex
Female
Occupation
Farmer
Apple Bushel
is one of
Shrove Ash's
friends. She is the second pony who represent the
element of honesty
.
Background
Apple Bushel was born into the Apple family years after My Little Pony: Friendship is Magic.
She became one of the eight ponies under the employ of Princess Luna. She's a farmer who grew her own apple orchard.
She then became good friends with the Princess's great-niece, Shrove Ash. The two get along just fine due to Shrove's parents, Flash Sentry and Princess Twilight Sparkle, having history with the Apple family.
Appearance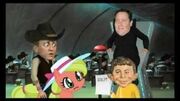 Apple Bushel's appearance is based off of
Applejack
from a segment from
Cartoon Network's MAD
,
Cowboys & Alien Force
.
Ad blocker interference detected!
Wikia is a free-to-use site that makes money from advertising. We have a modified experience for viewers using ad blockers

Wikia is not accessible if you've made further modifications. Remove the custom ad blocker rule(s) and the page will load as expected.