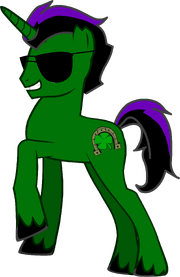 Clover Skull is a male unicorn pony from Manehattan.
Appearance

Edit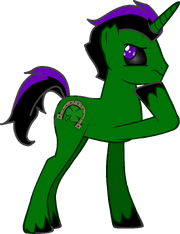 Clover Skull is tall, green coated unicorn, with black and purple mane and tail. His eyes scleras are black, and his pupils have melted into his dark purple pupils. This happened due to an accident in his childhood. The brief glow in his eyes never seem to stay in one place(due to my lack of photoshop skills.) His eyes are the reason he almost always wears his sunglasses.
Cutie Mark
Edit
His cutie mark is a four leaved clover inside a horseshoe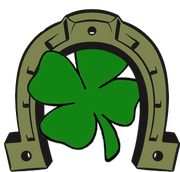 . The two lucky charms represent his incredible luck, and that even if somethings seem to go wrong for him, they always bring something better in exchange.
Personality and Physical Attributes
Edit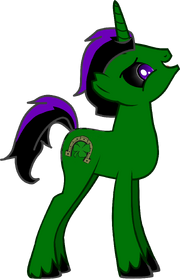 Clover Skull is pretty strong and fast due to his long travels across Equestria. He is also very bad at magic, being only able to cast the most simplest spells in best conditions, and sometimes even then they fail. Spells he knows are standard unicorn telekinesis, lighting a fire into a fireplace or an oven, and a spell that his mother had designed, that would allow the caster to ferment beverages at extreme speeds. Someponies say that this lack of magical skills was balancing his luck. His main color is green, and his manes colors are black and dark purple.

Clover Skull is very egoistic and narcissistic, little bit paranoid and very afraid of fire, but he is also very trustworthy and he would never betray a friend or a foe. This isn't caused by extreme loyalty, but his Code of Honor that he developed during his travels. It is more than life to him to follow these rules that he had set to himself. He wouldn't allow hiself to steal, for example(he would probably never need to because of his luck), nor would he lie to somepony. His paranoia also developed during his travels, when he encountered many treacherous ponies, but due to his luck almost nothing bad ever happened to him. Still he is unable to trust most ponies he encounters, and is suspicious even of his few friends.

Like said before he sucks at magic. Almost every spell he tries fails, and sometimes they fail catastrophically. Once when he tried just to levitate a book, it turned into a nine headed fire breathing hydra. Luckily his teacher was able to turn it back into a book. He was bullied for this for few days in school, but luckily for him the fillies that bullied him were transfered to far away land callled Metwurstia. He soon got few friends, but he still remembers the bullies, and is constantly practising magic, without much succes. This was maybe the most traumatizing event in his life, and he never got fully over it. This is said to be the cause to his egoistic attitude towards everyone else.
Family and Home
Edit
Clover Skulls father was an earth pony and his mother was an unicorn. He also had an earth pony sister. They lived in Manehattan, where they had a brewery, in which they made a special kind of cider, called The Red Cider. It was special for its special attribute to bring luck to its drinker. The brewery was a small business, selling small amounts of cider with a medium price since the ingredients for the brew were hard to come by. Only place where most of them could be found was the Everfree Forest.
Story time
Edit
So one day, they ran out of ingredients once again, and young Clover Skull and his father had to go to the forest to get more. They were used to camping in the forest, since collecting the needed ingredients took almost always more than one day. So when the night fell they decided to find a suitable place for their camp. During the night Clover Skull woke up. He felt like his bladder was about to explode. He went out to take a leak, when he heard howling of the Timberwolves. He went to wake up his father, and they decided to leave the camp, at least for the night. They hid in a cave nearby, and waited. After a few seconds a pack of timberwolves attacked the camp. They tore up the tents only to find that their food had gotten away. Clover Skull and his father spent the rest of the night in the cave. From that day forward Clover Skull knew that his special talent got to have something to do with the incident in the forest.

They returned safely with ingredients for the brew, and for a while everything was alright. Few years passed, and still Clover Skull didn't have his cutie mark. One cold winter night when Clover Skull and his family were asleep, something happened. Clover Skull woke up feeling really thirsty. He went downstaris to get some water, when he smelled smoke coming from the brewery. He ran into his parent room shouting "Fire! Fire!". His parents woke up, and smelled the smoke too. Clover Skull ran outside with his parents, but outside he remembered something. His sister was still inside! The brewery was ablaze, and his father wasn't able to get in. Clover Skull decided to trust his luck blindly as he rushed trough the small hole that was left of the collapsed doorway. The entry was too badly collapsed for him to get trough, but then he remembered the way that led trough the brewery to the kitchen of their house. He ran trough the brewery, and felt weird stinging and tingling in his eyes, but didn't pay any attention to it. He soon found his sisters room, and his sister scared under her bed. He remembered that snow plows usually left a huge pile of snow under his sisters window. He told her to jump, and since his sister trusted him almost as much as he trusted his luck, she jumped. He heard a small thump, indicating that he was correct about the snow pile. He jumped soon after, and landed in soft snow. He wasn't feeling very good and soon after his parents got to him he passed out.

Soon after he had awoken in hospital he was told the bad news. Over his eyes was a bandage that blindfolded him. At least he thought so. The doctor told him that fumes that were born when red cider burnt had caused severe damage to his eyes. The sclerotic coat Had taken a weird black tone, and his pupils were as purple as his iris before the accident. He was told that he was lucky, since the fumes could have melted his eyes. They said also that he would probably go blind before he would turn 25. Soon his parents came to visit, and told that he had saved his sisters life. They also told that a cutie mark had appeared to him. It was a four leaved clover inside a horseshoe, they told. He knew that it represented his incredible luck. Clover Skull spent few days in hospital, before he was allowed to leave. He was still able to see, but everything was coated in purple.

Years passed, but his sight wasn't going away. Actually, he thought, it was almost better than when he got home from hospital. But there definitely were something wrong in his eyes, or maybe in his head. He often saw things that had happened, and sometimes things that were to happen. He also saw many things that weren't there, like the changeling that lived under his bed for a year after he got home from hospital. The brewery was rebuilt, and Clover Skull kept on working on the Red Cider with his father. He also got special kind of glasses from his magics teacher. They were supposed to fix is sight, and even though his teacher had never tried this type of spell, they worked extremely well. Everything had its own colors, and ghosts of the past weren't haunting his every move. Soon they ran out of ingredients again, and since Clover Skull was old enough to gather more on his own, he left to the Everfree forest. He collected the ingredients faster than his father ever had. He returned home to find that his father was missing. Clover Skull and rest of his family kept going on, since his father was often few days away for some reason, and after few days they heard from guards that Clover Skulls father had drowned. He was apparently walking near the docks when he slipped and hit his head. He then fell to the water and drowned.

Clover Skull took over the brewery soon after the death of his father. He moved to his own apartment, away from his familys old home. His sister got married to a unicorn from Canterlot. After weddings she moved to Canterlot. At first she wrote almost every week to her mother and brother. But then she stopped writing after a while. Clover Skull kept running the brewery until his mother died one rainy autumn day. After her funeral Clover sold his brewery. He bought the most durable saddlebags he could get, packed them full of ingredients for the Red Cider and dried food for a long trip, and left Manehattan.

His travels would take him across Equestria, and end up at Ponyville just in time for Summer Sun Celebration...
Dealings with Lord Anders
Edit
Main article: Lord Anders
Even for an experienced traveller nights in the desert can be cold and dangerous. Clover Skull on the other hand never had this problem. He was confident that his luck would keep him safe. He was travelling to Apple Loosa to sell his newest batch of Red Cider, when he noticed something flying over his head. Clover Skull kept on walking, but the flying shadow kept on following him. He also heard sound that reminded him of the timberwolves pawsteps. Suddenly the shadow over his head started storming towards him. At the same time the pawsteps behind him were getting louder and louder. Clover Skull calmly removed himself from the carriage that he used to carry his cider, and stepped to the left. In the exactly same moment as he got away, a big hyena jumped to the place where he had just been. The hyena noticed him, and stared at him for a second. Suddenly something big and dark hit the hyena from above. The big and dark creature stood up, cleaned its cloack and fur from the blood of the crushed hyena with magic and took of its cowl. Clover saw that it was a pony with dark fur and dark blue mane. But there was spmething chilly about this pony. The way that he crushed the hyena, and yet survived the impact himself was extraordinarily weird. The dark pony introduced himself as Lord Anders. Clover Skull asked this mysterious pony what was he doing crushing hyenas at this time of night. Anders calmly said that his target was not the hyena, and insted he targetted Clover. Hyena was just one of his many lackeys. The mysteroius pony seemed like he was starting to cast a spell, even though he was not an unicorn. But before he could finish his spell, a vulture, that had been flying all night and was hungry and tired, fell from the sky, and right on his head, breaking his concenration, and thus making him unable to complete the spell. Lord Anders stunned by this unexpected accident. Clover calmly walked to his carriage, and pulled the harness on. He bowed down to tighten the straps of the harness, when a hoof flied over his head and hit the corner of the carriage. Even though Clover had bought the best and strongest carriage available, the hoof took large part off of the corner. Lord Anders`s kick had missed Clovers head by just an inch.
-Why are you so hard to kill!? Lord Anders shouted furiously.
-Ha! Ye are not the only one that have failed on that task. Clover replied.
-You still didn't answer to my question.
-It's mostly because of me special talent. I'm the luckiest pony in the world, lad. Killing me would be very unlucky fer me, and that's why it won't happen.
-Dont you DARE TO CALL ME LAD! I AM IMMORTAL! I WAS ALIVE LONG BEFORE YOU AND I WILL LIVE LONG AFTER YOU! I AM THE MASTER OF DARKNESS, COMMANDER OF ARMIES OF THE DEADLIEST WARRIORS, THE...
-Yer still a laddie to me, even if ye are all that. Heck, I'd call ye laddie even if ye were older than me. Ye look too young to not to be a lad.
-NOPONY INTERRUPTS LORD ANDERS! NOPONY!
-Calm down laddie, you're making me head hurt with all that shouting and screaming. Ah need to get to Apple Loosa so ah can sell all these barrels of The Red cider.
-SILENCE... Wait, what? You sell The Red Cider?
-That's correct, laddie. Would ye care to buy some?
-The recipe.
-The recipe is not fer sale.
-Then I'll take it.
-Ye are welcome to try, but ah guarantee that ye won't be getting it.
Lord Anders tried to attack again, but he had not noticed that he was standing on very unstable pile of sand. He slipped, and fell to the ground. Clover Skull started walking at the direction of Apple Loosa, when Anders decided to try another approach. He offered Clover Skull a huge amount of bits for the whole batch of cider. Even though Lord Ander had tried to kill Clover four times he accepted and promised to bring the cider to the Everfree Castle, knowing that he would be safe because of his luck.
Clover Skull got trough the Everfree Forest with ease and found his way to the Everfree Castle. The gatekeepers were already alerted to let him trough. He was told to leave the carriage next to main doors to the castle. He was then told that Lord Anders awaited him in the main hall. He followed the two guard pegasus ponies to the main hall, when suddenly he noticed somethings flying around him as he walked. If he had taken a closer look to the walls, he would have noticed the small poisonous darts, that were automatically shot from the walls as he walked by. None of them touched him though. Walk trough the castle was long, since the castle was alot bigger that it had first seemed. finally they arrived to the Main Hall, where Lord Anders greeted them.
-Where are me bits? Clover asked.
-You shall receive them soon enough. Now, I see that your journey has been long and tiresome, would you like to have a rest in the comfort of my humble home? Replied Anders
-Well ah am pretty tired from the walk, and it has been a while since ah had the chance to sleep in a bed, so why not.
-Then let my butler show you the way to your room.
Clover followed the butler to a room. The room was dark, but warm. Butler told Clover not to venture out of his room because the castle could be a dangerous place for outsiders. Butler left the room, and clover went to extinguish the candles to get some sleep. As he walked to the last candle, he heard a loud screeching sound behind him. He took a sptep forward. Then he turned around to see what caused the sound. There were a huge square hole in the floor. It had to be some sort of a trap. He knew that he should most likely to get the bits and leave the castle, but he trusted his luck, and went to sleep. He fell asleep almost insantly, and as always, had horrible dreams about fires and magic.
When he woke up in the morning he noticed claw marks around the hole in the floor. Looked like something fell down that hole when Clover was asleep. The butler arrived to his room, and when he saw that Clover was still alive, he hurried away. After a while the butler returned to invite Clover Skull to the Main hall to get his bits. They walked trough the castle, but this time no traps activated. Lord Anders were already waiting for them in the Main hall, with a large sack of bits.
-So, ye have me bits now, aye? Clover Skull asked
-Yes, I have your bits. Lord Anders said
-You are a hard pony to get rid of.
-That ah am. Thanks for the bits, and good day to you.
As Clover walked ou of the hall he heard Lord Andres shout at his servants: Why didn't the trapdoor open! Clover smiled shortly as he walked to his carriage, put on the harness and left the castle, thinking that Anders was one interesting customer.
Something
Edit
Clover Skull is an fanfic character, and will be starring his own adventures accross Equestria in near future.
Thanks for the help creating him and his backstory goes to: Ran, Wilfre, Ct Blademane, Nathaniel/Canto Nocturnus and many others from Ponychan. Also Pony Reviews deserves a big thanks. I'm not sure if people usually add this kind of "credits" to their wiki pages, but I just felt like that they needed some credit for putting up with me for such a long time.
Random useless trivia
Edit
He can be found with google image search. Just type in Clover Skull.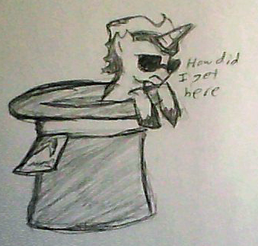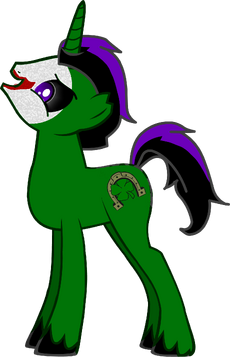 He is deathly afraid of soup cans.
His face is 100% brick-wall punching fire-arm resistant.
He sometimes gets Jokerified without any visible reasons or causes.
Once he got shrunken and fell into his top hat,which he rarely wears.
He is currently the only one alive who knows the recipe for The Red Cider.
His accent sounds a bit scottish.
He has an unnatural love for low bass sounds.
Even though he doesn't directly support Discord, he has a habit of swearing by Discord rather than Celestia or Luna.
His eyes started out as an error with photoshop.
His headbutts are a force to be reckoned with.