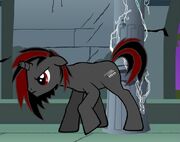 Pony Info

Cyberhoof

Name

Cyberhoof

Race

Unicorn

Gender

Male

Cutie Mark

Computer processor

Extra Note

Has a broken horn
Description
A dark colored unicorn with a broken horn. He's usualy seen with a robotic arm attached to him by a harness on his back.
History
As a colt he was injured in a fight with some other unicorns, causing him to lose most of his horn and magic. Because of his handicap, he began developing a special harness that would let him continue to pick up and move items as he did with his magic. The first of wich was a series of ropes and pulleys. Upon successful tests of a computerized arm for his harness, his "cutie mark" appeared in the form of a computer processor.
Other Info
His broken horn still has a little magic left in it, allowing him to put on and remove his harness when need be, but his magic power doesnt extend much beyond that.
Ad blocker interference detected!
Wikia is a free-to-use site that makes money from advertising. We have a modified experience for viewers using ad blockers

Wikia is not accessible if you've made further modifications. Remove the custom ad blocker rule(s) and the page will load as expected.