Pony Info

Daydreamer

Name

Daydreamer

Race

Pegasus

Gender

Female

Cutie Mark

Sun and two Clouds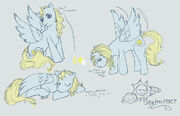 Description
She's Daydreamer, a sleepy (narcoleptic?) pony that often neglects her weather duties as a pegasus pony to take naps during the day. Though laid-back and generally considerate, other ponies find it difficult to hold a conversation with her, as her mind often wanders (or she simply gets sleepy). She loves to make up stories and share them with others.
History
History about the pony
Other Info
Other info about the pony
Ad blocker interference detected!
Wikia is a free-to-use site that makes money from advertising. We have a modified experience for viewers using ad blockers

Wikia is not accessible if you've made further modifications. Remove the custom ad blocker rule(s) and the page will load as expected.