Duskora is a Pony.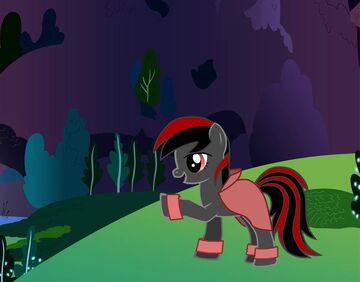 Basic Info
Name: Duskora
Gender: Female
Species: Pony
Role: Background Pony
Personality
Since Duskora is a Background Pony, it isn't Really "Confirmed" What Her Personality is Like. But Her "Poses" in the Background Make Her Look Kind of Like a Bossy, Happy & Determined Type Personality. She Appears in Most of the Races in the Show, And Competes in Them, And Usually Comes About 3rd-7th.
Gallery
Trivia
Her Cape is There to Cover Her Hide, Which Has No Cutie Mark Yet, & She's Afraid That Everyone Would Tease Her if She Didn't Have Her Cape on to Show That She Has No Cutie Mark.
Apparently,  Duskora is Based Off of Fang99999's (My Animal Jam Account) Animal Jam Character, "Victory Thehorse".
Ad blocker interference detected!
Wikia is a free-to-use site that makes money from advertising. We have a modified experience for viewers using ad blockers

Wikia is not accessible if you've made further modifications. Remove the custom ad blocker rule(s) and the page will load as expected.