Elkraps Thgiliwt
Kind
Unicorn
Sex
Female
Occupation
Librarian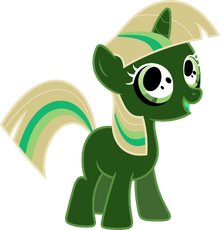 Elkraps Thgiliwt (pronounced elk-raps th-gil-li-wit) is an alternate dimension's Twilight.
History
Early Life
Elkraps Thgiliwt was a really friendly pony in her youth, and had no interest in powerful magic or books whatsoever. However, when she performed a powerful spell and got her cutie mark, she fled to Ponyville and became a librarian at the Golden Oak Library.
Unlike Twilight Sparkle, Elkraps Thgiliwt never became a powerful alicorn princess.q
Traits
Personality
Elkraps Thgiliwt is a trusting pony. She is disorganized and a slob, and was always late and usually got 50% or less on her tests.
Skills
Magic
Elkraps Twilight never showed any interest in magic, but she had a powerful raw ability. When she performed a powerful spell as a filly, she earned her cutie mark.
Ad blocker interference detected!
Wikia is a free-to-use site that makes money from advertising. We have a modified experience for viewers using ad blockers

Wikia is not accessible if you've made further modifications. Remove the custom ad blocker rule(s) and the page will load as expected.