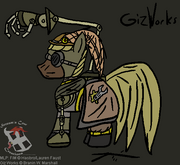 Pony Info

Giz Works

Name

Giz Works

Race

Earth Pony

Gender

Female

Cutie Mark

Wrench over a gear

Occupation

Steampunk Scientist
Description
Her cutie mark is a wrench above a gear. Her front left leg was blown off in an experiment, and so she build herself a new mechanical leg.
History
She's an earth pony who got fed up with the powers of unicorns and the flying abilities of pegasi, so she built for herself a mechanical hand to help her build her machines, she speaks with a German accent.
Other Info
artist's deviantArt page: http//bingfox.devianart.com/
Ad blocker interference detected!
Wikia is a free-to-use site that makes money from advertising. We have a modified experience for viewers using ad blockers

Wikia is not accessible if you've made further modifications. Remove the custom ad blocker rule(s) and the page will load as expected.