This article,

Hazel

, is the property of LUNA! None shall edit or use this page without her permission. If edited or used with out her permission, you shall feel her wrath!
Hazel
Kind
Pegasus
Sex
Female
Hazel 
is the sprit of the Virgo Sign and wields the element of bravery. 
Personality
Hazel is very outgoing and is not afraid to be loud. She can be cocky sometimes. Hazel is also a fan of Greek Mythology.
Relationships
TBA
Moon Dancer and Hazel have a very normal relationship. Though sometimes Moon Dancer finds her to be ridiculous.
Hazel likes to get things done quickly which bothers Cryla. Cryla also sees that Hazel is very talented as encourages her to step outside her box.
Like Cryla, Hazel loves rocking out with K.B. and likes talking to her about her own life.
Trivia
Hazel replaced Feathermay in my mane 6
Hazel's Pokémon Trainer counterpart is Hazel Griffen
Gallery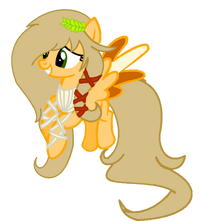 Ad blocker interference detected!
Wikia is a free-to-use site that makes money from advertising. We have a modified experience for viewers using ad blockers

Wikia is not accessible if you've made further modifications. Remove the custom ad blocker rule(s) and the page will load as expected.