Jacob

Name

Jacob

Race

Pegasus

Gender

Male

Cutie Mark

Pencil
Description
A friendly, generous & kind pegasus, Jacob is often shy & timid around company. When things get bad, Jacob can rise above the situation with help from his friends!
Jacob earned his cutie mark because he loves to draw! Everyone comes to see his marvellous works of art! (Jacob says they're 'OK', but then again, he is very modest & never shows off)
Other info
Jacob's best friend is Raindancer, another pegasus pony. Both enjoy rainy days & share their own house in Prancing Park. Raindancer is like a twin sister to Jacob, he admires her because she is a very happy person & stands up for him.
Jacob is based on
Jacobmystic
, who created him.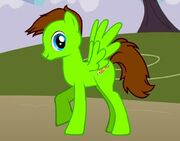 Ad blocker interference detected!
Wikia is a free-to-use site that makes money from advertising. We have a modified experience for viewers using ad blockers

Wikia is not accessible if you've made further modifications. Remove the custom ad blocker rule(s) and the page will load as expected.