"Dono yō na..." - Ka-Ching
Pony Info



Name

Ka-Ching

Race

Pony

Gender

Female

Cutie Mark

None

Occupation

Student

Place of Birth

Inuyuma (Ilex Empire)

Residence

Ponyville
Appearance
Ka-Ching is an Earth pony, particularly a filly. She has pitch black, oriental-fashioned hair and wears a crimson bow on it. One can also spot few freckles inbetween Ka-Ching's deep blue eyes.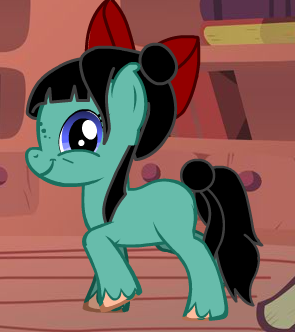 History
(COMING SOON)
Other Info
MLP is property of Hasbro.
Ad blocker interference detected!
Wikia is a free-to-use site that makes money from advertising. We have a modified experience for viewers using ad blockers

Wikia is not accessible if you've made further modifications. Remove the custom ad blocker rule(s) and the page will load as expected.