Midnight is a Purple Pegasus (I BAD AT THIS O3O).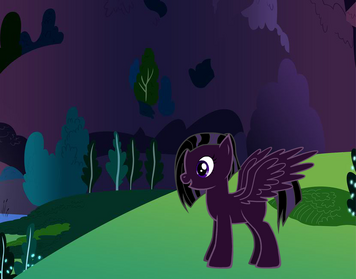 Personality
Most of the Time She's Pretty Cheerful, But Occasionally She Can Have Mood Swings.
Powers
She Has "Moon Powers". When She Needs/Wants to, She "Grows" A Horn onto Her Head And, With Her Horn, She Can Charge Up a Laser Beam That Has Moonlight in it, Called a "Moon Beam". She Can Make Her Horn Come or Go Whenever She Wants.
Relationships
ALL PEOPLE WHO NOT EVIL :3
Ad blocker interference detected!
Wikia is a free-to-use site that makes money from advertising. We have a modified experience for viewers using ad blockers

Wikia is not accessible if you've made further modifications. Remove the custom ad blocker rule(s) and the page will load as expected.