Moonrise is an unicorn, known as the amateur music creator, who lives through randomized depression attacks, during which his mood changes and overall darkens.
Childhood
Moonrise was raised in a harsh environment, not being accepted by either his family or foals from the school. At the age of 14, he went through his first depression attack, which left everyone around him scratching their heads. During the attack Moonrise would become lifeless, not caring about his health, becoming hopeless and distancing himself from the others, besides that his overall colors would darken and even his horn would become more dull and shorter than usual. After finishing school Moonrise decided to fight with his condition and live a normal life of a pony.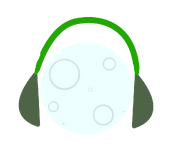 Moonrise Now
Now, at the age of 20, Moonrise looks for a way to become better at making music, while curing the last bits of his unfortunate condition. With his depression attacks becoming less frequent than ever, he's looking up to the nearest future. 
 His favourite princess is Princess Luna, his favourite weather is storm, and he hates ponies that are manipulative and/or selfish. 
Ad blocker interference detected!
Wikia is a free-to-use site that makes money from advertising. We have a modified experience for viewers using ad blockers

Wikia is not accessible if you've made further modifications. Remove the custom ad blocker rule(s) and the page will load as expected.