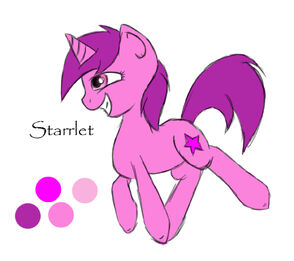 Starrlet

Not The Actual Mane Style

Name

Starrlet

Race

Unicorn

Gender

Female
Description
Starrlet is a Pink Unicorn Pony with a Light Purple Mane and Tail. Has a Purple Star Cutie Mark
History
As a young Unicorn, Starrlet's mom, Venus always tells her the tale of the Princesses. She is always eager to learn new magic spells, also loves to experiment on various things. When Her parents noticed about her interest in Magic, They enrolled her at Princess Celestia's School for Gifted Unicorns. When She was Practicing a basic Levitation Spell, it led her to notice that her magic isn't just levitating an object, but also moving the stars. She then Realized that she can control the stars with her magic, it also led her to finally have a cutie mark. After finishing her studies at Canterlot High, she has decided to move to Ponyville for a change and left my parents at Canterlot. She has made some friends instantly after that, She is currently living near Ponyville's Library studying more about magic.
Ad blocker interference detected!
Wikia is a free-to-use site that makes money from advertising. We have a modified experience for viewers using ad blockers

Wikia is not accessible if you've made further modifications. Remove the custom ad blocker rule(s) and the page will load as expected.