Pony Info

Starshine

Name

Starshine

Race

Pony

Gender

Male

Cutie Mark

A LOT of stars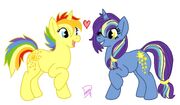 Description
A super magical unicorn with the power of AWESOMENESS. She thinks Sunburst is pretty funny, and will always laugh at her jokes, or go on adventures with her. She's a very kindhearted and caring pony, always willing to keep the hyper-active Sunburst company.
History
History about the pony
Other Info
Other info about the pony
Ad blocker interference detected!
Wikia is a free-to-use site that makes money from advertising. We have a modified experience for viewers using ad blockers

Wikia is not accessible if you've made further modifications. Remove the custom ad blocker rule(s) and the page will load as expected.