Pony Info

Sunburst

Name

Sunburst

Race

Unicorn

Gender

Female

Cutie Mark

A 'flaring' or 'bursting' sun, sending out 'sparkles/stars', a heart in the middle.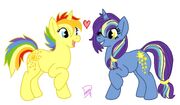 Description
Sunburst is overall, bright, chipper, cheerful, and always willing to help anypony out. Although she's generally outgoing and quick to laugh, she can also be extremely sensitive, and prone to fits of gloominess that are hard to shake. Sunburst doesn't have any one 'special talent', her magic focuses on mainly moving things around (and nothing too tremendous) - although she can produce a very strong light from her horn, and can change it's color on will. (This makes for good parties.) Sunburst is a little out there in how she sees the world, and knows that her special 'job' is to illuminate the lives of others, although this sometimes makes her feel 'outside' or different from many other ponies.
History
History about the pony
Other Info
Likes: Naps in the sun, her awesome friends, nature, the sun, little animals, sunbathing, having fun, reading, baking, vegetables, rainbows after storms, and beautiful sunny days!
Dislikes: Meanies, spiders (she's a little scared of them, but won't kill them. Just...eek!), big scary lakes and oceans, loosing the people she loves. Particularly long storms also make her feel extremely gloomy, though she likes a little rain.
Ad blocker interference detected!
Wikia is a free-to-use site that makes money from advertising. We have a modified experience for viewers using ad blockers

Wikia is not accessible if you've made further modifications. Remove the custom ad blocker rule(s) and the page will load as expected.