Sunrise tune
Edit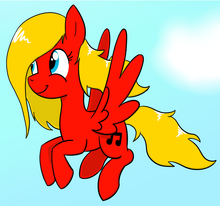 sunrise is a kind pony. She normaly do her best to make her friends smile and be happy. She never wants to fight with anyone, she's too shy for that. She LOVES to fly and is really happy to be a pegasus. She also likes to be free, alone sometimes. She flies away and go stand on a cloud, just to look at the sky or the sunset.
she can be very naive, tough. She kinda often believe what other ponies tell her. For her, frienship is important. If she lose her friends, she lose her life. She cares a lot for them.
Cutie mark and talent
Edit

her cutie mark is a simple music note. She earned it when she was 12, at the end of the year at school. She had to sing in front of everyone. When she started, she became unstoppable. Everypony was applauding and she was so happy. She looked at her flank and saw her cutie mark.
eyup, her special talent is singing.
back story
Edit
She is born near a forest. Her family was not rich, but not poor. Her dad was a woodsman and her mom a cook. Her dad was getting money by selling the wood he was cutting and her mom was cooking in a small bistro. they were 6 kids in a little house. 4 boys 2 girls. She's the older one, so she always had to help her mom with the dishes, washing, cleaning and also taking care of the children. she didn't have many friends. she was too busy to make some. but she had, by chance, a best friend who was really important to her. She helped Sunrise with her homework, at school. sometimes, she went to sleep at her house. They were having so much fun these times. she really miss her. she died when she got beaten up by a group of teenagers (boys). Apparently, they were drunk. She tried to defend herself but they hit her too hard. when Sunrise heard the new, she was speechless, sad and really mad at the same time. But before she died, she gave Sunrise a friendship bracelet. She don't wear it because she don't want to lose it, it is too important for her. School was difficult for Sunrise after that, she was too sad to concentrate
The day of her 13 years, their house went on fire. only Sunriseand her little sister were able to go outside. Her dad, her 4 brother ( 3 were 6 years old and 1 was 7 ) and her mom were trapped in the basement. They died. because their parents were dead, they couldn't get money to repair the house, so Sunrise and her sister went to their grand-mother's house. at the age of 14, she decided to go, letting her sister in good hooves with her grand-mother. She wanted to run away from all. She already lost a lot, She didn't want to lose more. She decided to be free. free of everyone, everything. Sunrise went near canterlot (She wasn't living so far of this place, but it was long to go there), where She met derpy hooves. she was looking at her with a big grin, holding a chocolate muffin in her right hoof. After a few seconds, she said : " muffin ? " while she was holding it in front of Sunrise. She was so hungry, Sunrise couldn't resiste. She said : " yes, please, thanks " and put it in her mouth. Derpy was laughing because Sunrise ate it really quickly. Derpy said " you're funny" and flew away, saying she got mail to deliver. Sunrise never saw her again after that (exept now, these days) after that, she decided to go in canterlot. There she met princess Celestia, who said that she should go to ponyville where she could meet friends. She gave Sunrise a ticket and she went to ponyville in a train.
In ponyville, she met frostbite rune. At first, they were good friends, but now they are married. Frostbite asked Sunrise if she'd like to be his special somepony during the night of the canterlot royal wedding. They still don't live together, they wait until they have enought money to build a house in ponyville. Frostbite lives in the Everfree Forest. They now have a daughter named starry dew. She's a unicorn and her special talent is painting. she's born on April 10th, 2012. She now lives with Sunrise in cloudsdale. She lives there with his father's blessing "Walking on clouds" spell. Starry Dew's life isn't safety at all but it's better then living in the dangerious Everfree Forest with her father.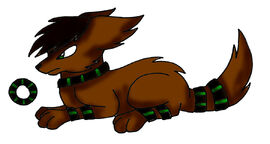 pony pet
Edit
she also has a pet. A little dog she found.
She didn't find a name for him yet. Since he can't fly, he lives in fluttershy's cottage.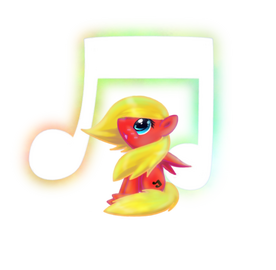 sunrise is from I-love-art-29 on deviantart. At first, she was supposed to BE the creator (like i-love-art-29 as a pony) so her name was Marie. But later, she decided that her pony should be an OC and not her. So she decided to give her a name, wich was found by light-of-dusk on deviantart (he also found the name of her daughter, starry dew, which was developed by saviouryarks, I-love-art-29 and sonicboom07 on deviantart). Sunrise tune has now a better identity and story (thanks to saviouryarks) She still needs a bit more developments.
artist comments
Edit
I-love-art-29: " I never thought myself as a pony would become Sunrise tune. I never thought I'll have to make her a back story and that she would be married with frostbite rune and have a daughter. I think it's just that I didn't understand what it really is to have an OC. I'm glad that she is what she is now.
I'm very thankful to saviouryarks. If I never met you, sunrise wouldn't be what she is today. I've been able to develop her because of you. You have a lot of very great ideas and that helped me a lot ! thanks <3
I'm also thankful to light-of-dusk. If you ever read this, thanks a lot for the kind words and also for finding the names of my OCs . thanks <3 "
artists infos
Edit
i-love-art-29 : http://i-love-art-29.deviantart.com/
currently 14, live in canada, studying in a High school
saviouryarks: http://saviouryarks.deviantart.com/
is currently 16, living in Hong Kong, studying at Victoria Shanghai Acedemy.